Help Pedal Away Cancer at Annual Charity Cycling Event
Registration Open for 'Century for the Cure' to Benefit The Cancer Institute of New Jersey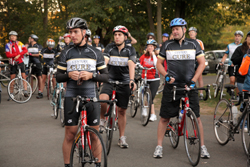 New Brunswick, N.J.– Cycling enthusiast Grant Petersen once stated, "Think of bicycles as rideable art that can just about save the world." This is the sentiment behind the Century for the Cure bicycle ride to benefit the Cancer Institute of New Jersey (CINJ) Foundation. Dedicated participants gather every year for this event, putting their passion to work to save the world, one patient at a time, with funds raised benefiting cancer research and programs at CINJ. CINJ is a Center of Excellence of UMDNJ-Robert Wood Johnson Medical School. 
Registration is now open for the seventh-annual event, which takes place this year on September 10th at Camp Riverbend in Warren Township. Cyclists can choose the 100-mile, 80-mile or 40-mile route, as they pedal through the scenic back roads of central New Jersey. Participants also have the option to register as a "virtual rider." Virtual riders can collect donations and show their support without physically taking part in the one-day ride. Participants, virtual riders and volunteers can register online at www.centuryforthecure.com.
Century for the Cure grew out of a passion for cycling held by Warren Township resident Scott Glickman, who was treated at CINJ for stage four non-Hodgkin's lymphoma more than a decade ago. As a way of "giving back" to CINJ, Glickman gathered together a few friends and began the event in 2005.  That handful of friends has grown into more than 140 riders over the past few years, and event organizers are confident that number will continue to grow.  Since the ride's inception, more than $625,000 has been raised for cutting-edge research at CINJ. The goal for this year's ride is $250,000.
"There are some CINJ patients that are receiving therapies that would not have been available without support from the Century for the Cure ride," said Glickman.  "I know we are all very proud of what we as a collective group have been able to accomplish with the ride over these past few years."
In particular, a portion of the funds raised will continue to support the work of Roger Strair, MD, PhD, director of CINJ's Hematologic Malignancies Program and professor of medicine, UMDNJ-Robert Wood Johnson Medical School, who was Glickman's oncologist during his treatment at CINJ. "The growing response we have seen to Century for the Cure over the past six years has been tremendous. Scott's continued commitment and enthusiasm is contagious and we are grateful to him and all participants for helping us continue our efforts to develop life-saving cancer therapies," said Dr. Strair.
This year's ride is sponsored by Overton Customs Brokers and JMK Auto Sales among others.

About The Cancer Institute of New Jersey
The Cancer Institute of New Jersey (www.cinj.org) is the state's first and only National Cancer Institute-designated Comprehensive Cancer Center dedicated to improving the detection, treatment and care of patients with cancer, and serving as an education resource for cancer prevention. CINJ's physician-scientists engage in translational research, transforming their laboratory discoveries into clinical practice, quite literally bringing research to life.  To make a tax-deductible gift to support CINJ, call 732-235-8614 or visit www.cinjfoundation.org. CINJ is a Center of Excellence of UMDNJ-Robert Wood Johnson Medical School. 
The CINJ Network is comprised of hospitals throughout the state and provides the highest quality cancer care and rapid dissemination of important discoveries into the community. Flagship Hospital: Robert Wood Johnson University Hospital. System Partner: Meridian Health (Jersey Shore University Medical Center, Ocean Medical Center, Riverview Medical Center, Southern Ocean Medical Center, and Bayshore Community Hospital). Major Clinical Research Affiliate Hospitals: Carol G. Simon Cancer Center at Morristown Memorial Hospital, Carol G. Simon Cancer Center at Overlook Hospital, and Cooper University Hospital. Affiliate Hospitals: CentraState Healthcare System, JFK Medical Center, Mountainside Hospital, Raritan Bay Medical Center, Robert Wood Johnson University Hospital Hamilton (CINJ Hamilton), Somerset Medical Center, The University Hospital/UMDNJ-New Jersey Medical School*, and University Medical Center at Princeton. *Academic Affiliate