Research from The Cancer Institute of New Jersey Highlights Breast Cancer Advances
Results on Genetic Variants in Estrogen Receptor Positive Disease Presented at International Conference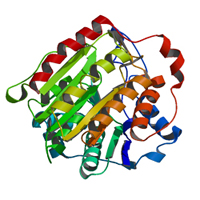 New Brunswick, N.J.– Investigators at The Cancer Institute of New Jersey have presented new research at the 33rd Annual CTRC-AACR San Antonio Breast Cancer Symposium.  Their work highlights how a variation in a person's DNA sequence is associated with an earlier age of onset for breast cancer that is stimulated by the hormone estrogen (estrogen receptor positive). CINJ is a Center of Excellence of UMDNJ-Robert Wood Johnson Medical School.   
At focus were DNA sequence variations (polymorphisms) in the human enzyme known as HDAC9. Recent studies of this enzyme suggest that its suppression could lead to strategies that would regulate estrogen signaling.  This latest research, led by Kim M. Hirshfield, MD, PhD, medical oncologist at CINJ, and CINJ researcher Alexei Vazquez, PhD, both assistant professors of medicine at UMDNJ-Robert Wood Johnson Medical School, further supports a role for HDAC9 in estrogen signaling in that genetic changes in the HDAC9 gene may modulate onset of ER positive breast cancer and its recurrence.
In this latest study, described in a poster presentation at the Symposium, investigators used a bioinformatics approach to identify specific DNA sequence variations in HDAC9 for further study. These sequence variations were evaluated for associations between HDAC9 polymorphisms and age at diagnosis and recurrence in 1,101 patients enrolled in a CINJ study from 2004 to 2009. Of that number, the team focused on 516 Caucasian women with the ductal subtype of breast cancer.  Of this defined group, 75 percent had estrogen receptor (ER) positive disease with an average age of diagnosis of 53.7, while 25 percent had estrogen negative disease with an average age of diagnosis of 48.4 years. 
Patients with ER positive tumors who had a genetic variant at a specific location along the HDAC9 DNA sequence were found to develop breast cancer nearly five years earlier than those with the normal sequence at that same location (49.3 years versus 54.1 years).  Conversely, those with ER negative disease with the same variant at that DNA location, developed breast cancer nearly six years later than ER negative patients with the normal sequence (53.7 years versus 48.0 years). Investigators note though, that the comparison for the estrogen receptor negative group was statistically limited because the number of cases in that group was small.    
The team also evaluated Caucasians whose breast cancer responds to the hormone progesterone (progesterone receptor positive). Investigators looked at the relationship between a variation in the HDAC9 gene at a different DNA location and disease recurrence. Women who carried the sequence variation at this location demonstrated a strong association with recurrence, i.e. they were more than four times as likely to experience a recurrence.
"These genetic variants in the HDAC9 gene could ultimately affect signaling through the estrogen receptor, thus possibly leading to the alteration of the clinical features of breast cancer. The more specifics we have about how genetics alter age of diagnosis and natural biology of breast cancer could help us to better tailor treatment options in the future," noted Dr. Hirshfield.
Another researcher on the study includes Hongyan Liang, MD, a hematology-oncology fellow at UMDNJ-Robert Wood Johnson Medical School.  The work is supported by funding from New Jersey Commission on Cancer Research and The Breast Cancer Research Foundation.

About The Cancer Institute of New Jersey
The Cancer Institute of New Jersey (www.cinj.org) is the state's first and only National Cancer Institute-designated Comprehensive Cancer Center dedicated to improving the detection, treatment and care of patients with cancer, and serving as an education resource for cancer prevention. CINJ's physician-scientists engage in translational research, transforming their laboratory discoveries into clinical practice, quite literally bringing research to life.  To make a tax-deductible gift to support CINJ, call 732-235-8614 or visit www.cinjfoundation.org. CINJ is a Center of Excellence of UMDNJ-Robert Wood Johnson Medical School. 
The CINJ Network is comprised of hospitals throughout the state and provides a mechanism to rapidly disseminate important discoveries into the community. Flagship Hospital: Robert Wood Johnson University Hospital. Major Clinical Research Affiliate Hospitals: Carol G. Simon Cancer Center at Morristown Memorial Hospital, Carol G. Simon Cancer Center at Overlook Hospital, Cooper University Hospital and Jersey Shore University Medical Center. Affiliate Hospitals: Bayshore Community Hospital, CentraState Healthcare System, JFK Medical Center, Mountainside Hospital, Raritan Bay Medical Center, Robert Wood Johnson University Hospital at Hamilton (CINJ at Hamilton), Saint Peter's University Hospital, Somerset Medical Center, Southern Ocean County Hospital, The University Hospital/UMDNJ-New Jersey Medical School*, and University Medical Center at Princeton. *Academic Affiliate