Student Program that Raises Breast Cancer Awareness and Improves Science Skills Given $20K
Gift Allows The Cancer Institute of New Jersey and UMDNJ-School of Public Health to Offer Additional Teacher Training for 'BioCONECT'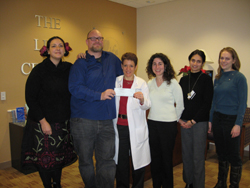 New Brunswick, N.J.– A check for $20,000 was recently presented to the Cancer Institute of New Jersey (CINJ) Foundation to support an effort that helps high school students enhance their scientific skills while raising their awareness about breast cancer. The BioCONECT (Biology of Cancer ON-line Education Connecting Teens) program guides students through a web journey with fictional 14-year-old fraternal twins who discover their mother has been diagnosed with breast cancer.  CINJ is a Center of Excellence of UMDNJ-Robert Wood Johnson Medical School.
For the past two years, educators from the LIFE (Ladies Professional Golf Association In the Fight to Eradicate breast cancer) Center at CINJ and the Center for School and Community Health Education at the UMDNJ-School of Public Health have been training high school teachers from throughout New Jersey and South Carolina on how to implement the BioCONECT program in their classrooms.  The case-based curriculum is designed to enhance the students' problem solving skills while expanding their knowledge of genetics, how cancer develops and the steps they can take to reduce their personal risk of breast cancer. 
The donation from the non-profit organization Syrentha Savio Endowment (SSE), will allow for an additional one-day training session to be held in New Jersey this year so that more local teachers can become involved.  The SSE provides financial assistance to underprivileged women who cannot afford the expense of fighting breast cancer and is supported by the Shirts For A Cure (SFAC) project.  SFAC enables the sale of punk rock band t-shirts, with proceeds going to SSE.
Deborah Toppmeyer, MD, director of both the LIFE Center and the Stacy Goldstein Breast Cancer Center at CINJ, and associate professor of medicine at UMDNJ-Robert Wood Johnson Medical School, says the impact of the SSE's generosity will be far reaching.  "By being able to train more New Jersey teachers, we are helping young people across the state learn more about reducing their risk of breast cancer.  And we are hopeful that it is a lesson the students will share beyond the classroom with their family and friends."
"While scientists and educators are making significant advances in the fight against breast cancer, we truly need community partners in this effort," said Jennifer K. Campbell, health educator with the Center for School and Community Health Education at the UMDNJ-School of Public Health.  "The SSE's commitment to this cause will help us continue with our education mission."
The initial pilot program was developed with support from the Val Skinner Foundation, the Central and South Jersey Affiliate of the Susan G. Komen Race for the Cure, the Renee Shatz Amdur Fund, and the North Brunswick Township High School Care to Walk Club.
Educators looking to find out additional information on the program can contact csche-sph@umdnj.edu.
The CINJ Foundation raises funds to support cancer research, treatment, prevention and education programs at CINJ.  Gifts are received from corporations, foundations, individuals, and through special events and planned gifts.  To make a tax-deductible gift to New Jersey's only NCI-designated Comprehensive Cancer Center call 732-235-8614 or visit www.cinjfoundation.org.

About The Cancer Institute of New Jersey
The Cancer Institute of New Jersey is the state's first and only National Cancer Institute-designated Comprehensive Cancer Center, and is dedicated to improving the prevention, detection, treatment and care of patients with cancer. CINJ's physician-scientists engage in translational research, transforming their laboratory discoveries into clinical practice, quite literally bringing research to life. The Cancer Institute of New Jersey is a center of excellence of UMDNJ-Robert Wood Johnson Medical School. To support CINJ, please call the Cancer Institute of New Jersey Foundation at 1-888-333-CINJ.
The Cancer Institute of New Jersey Network is comprised of hospitals throughout the state and provides a mechanism to rapidly disseminate important discoveries into the community. Flagship Hospital: Robert Wood Johnson University Hospital. Major Clinical Research Affiliate Hospitals: Carol G. Simon Cancer Center at Morristown Memorial Hospital, Carol G. Simon Cancer Center at Overlook Hospital, and Jersey Shore University Medical Center. Affiliate Hospitals: Bayshore Community Hospital, CentraState Healthcare System, Cooper University Hospital*, JFK Medical Center, Mountainside Hospital, Raritan Bay Medical Center, Robert Wood Johnson University Hospital at Hamilton (CINJ at Hamilton), Saint Peter's University Hospital, Somerset Medical Center, Southern Ocean County Hospital, The University Hospital/UMDNJ-New Jersey Medical School*, and University Medical Center at Princeton. *Academic Affiliate